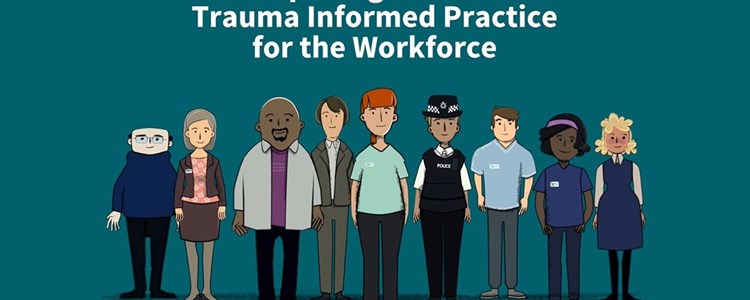 The National Trauma Training Programme (NTTP)
The National Trauma Training Programme (NTTP) was formed in partnership with the Scottish Government with the ambition  of  a trauma informed and responsive workforce, that is capable of recognising where people are affected by trauma and adversity, that is able to respond in ways that prevent further harm and support recovery, and can address inequalities and improve life chances.
We are heartened by the recent commitments by all local authorities and other members of the National Steering Group to nominate senior trauma champions and pledge their support for the ambitions of the project.
Dr Sandra Ferguson, Associate Director for Psychology has been nominated for the role within NES. The pledge and individual commitments from each organisation and local authorities will be available on the recently launched National Trauma Training Programme website shortly. 
The new National Trauma Training Programme website provides free access to a range of resources to support workforce development that include animations, films, e-modules, videos and key documents, all designed to work towards this vision. We also recognise that, particularly in the time of an international pandemic, the wellbeing of staff is critical to a trauma informed nation and workforce, and there is a section with resources that focus on supporting wellbeing of staff, managers and teams.
Trauma is 'everyone's business' and every member of the Scottish workforce has a role to play in understanding and responding to people affected by trauma. This doesn't mean that everyone needs to be a trauma expert —we know that different expertise and skills are required to support people's recovery — but it does mean that all workers, in the context of their own role and work remit, have a unique and essential trauma informed role to play in responding to people who are affected by trauma.
Judy Thomson, Director of Training for Psychology Services, NES & wellbeing champion said:
"Our workforce is our most important resource and have stepped up to the enormous challenge of the last 10 months. But to keep taking care of others, we need to take care of each other. Some of this is about planning for wellbeing; ensuring our teams can the things that can keep them well, such as making sure we take breaks and using Psychological First Aid to respond to normal reactions like distress. But we also need to plan to respond to members of the workforce who have experienced impacts on their mental health; by having access to a range of approaches that evidence shows will be effective depending on their needs."
---