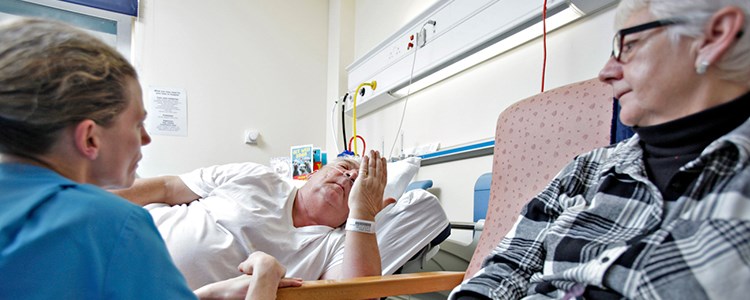 Study into adverse events shows that involving patients and families could be key to improving safety
A joint study between Healthcare Improvement Scotland (HIS) and NHS Education for Scotland (NES) found that NHS boards in Scotland could improve patient safety by actively listening to the experiences of patients and families.
The findings, published in the British Medical Journal, have been positively received by the NHS boards in Scotland, leading to new training being offered to NHS clinicians on compassionate communications following an adverse event.
The study was based on in-depth qualitative interviews with those in Scotland impacted by adverse events. The research found that, for the patient and their family, active engagement and listening can help with reconciliation following a traumatic event and help restore their faith in the healthcare system. For the health service, active listening and involvement will likely enhance learning and lead to improvements in healthcare and a reduction in risk of similar events occurring for other patients.
The findings provide an invaluable insight into what 'good' patient and family involvement looks like and will play a significant part in the ongoing work by Healthcare Improvement Scotland to standardise the handling of category 1 adverse events across NHS Scotland.  
Four key themes emerged as a result of participant interviews:
The importance of clear communication and a person-centred approach
The negative impact that prolonged timelines can have on patient and their families' mental health and the need for regular updates throughout the process
A clear focus on involving patients and families in adverse event reviews to enhance learning and improvements to be implemented by NHS boards
Participants who had a negative review experience characterised by a lack of involvement and poor communication were more likely to seek legal advice.
Participants recognised that the healthcare system is under strain and that human error is possible. Patients and families did not wish to apportion blame, but instead wanted to see a demonstrable, system-based approach to improvement from their NHS boards.
Rosanna from Glasgow was affected by an adverse event. She said of the study:
"I believe this study and its findings are crucial to truly understanding patients and families going through adverse events. Not only does the study capture exactly what needs to change, but it also highlights the elements that are most important to us: an apology and assurance that lessons will be learnt is all we really want. I feel really proud to have been part of this study and feel that my contribution, and those of others, will help shape the future of others undergoing this process."
Dr Sharon Hilton-Christie, Associate Medical Director Patient Safety, Clinical Governance and Risk, NHS Tayside, comments:
 "As healthcare professionals, we know that when adverse events occur, it is essential that we understand what led to them, what can be learnt from them and how this learning can be used in the future. It's important to involve patients and their families in adverse event reviews, as their experiences and perspective can help us learn and improve as well as making them feel heard and understood.  NHS boards will continue to work with HIS and NES to ensure that a patient-centred, nationalised approach to adverse events is implemented across Scotland."
Donna Maclean, Head of Service, Healthcare Improvement Scotland, said:
"We are pleased that NHS boards across Scotland are welcoming the findings of this study. Lots of good work is already underway to ensure that adverse events are appropriately reviewed and learned from. This study emphasises the importance of a consistent and meaningful approach to engaging with patients and families, placing them at the centre of the review process. We will continue working with NHS boards and NES to achieve a standardised approach and will be delivering national guidance and templates for engaging with patients and families, while the compassionate communications training has seen an unprecedented uptake across NHS boards in Scotland, with the first two cohorts currently underway and evaluation taking place also."
Dr Jean McQueen, report co-author and Principal Educator at NHS Education for Scotland said: 
"It was a privilege to speak to the study participants and learn what matters to patients and family following an adverse event in healthcare. As the national education provider for health and social care in Scotland we aim to ensure our work has a positive impact on people's lives. We will embed the findings in our educational programmes, and together with our partners in Healthcare Improvement Scotland we are committed to ensuring patients and families are included in our adverse event review processes in Scotland."
More information
Visit the British Medical Journal website to read the study.
---