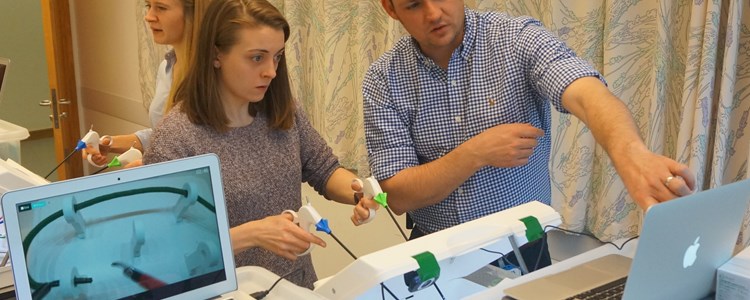 Simulation training transforms surgical skills
Latest digital and physical simulation techniques are revolutionising Scotland's approach to surgical training, enabling trainee surgeons to develop key skills before getting 'hands-on' with patients.
This month sees the launch of a pilot in Scotland's General Surgery training programmes, building on world-leading successes in the Core Training programme.
The training uses kits for practising surgical skills at home and uploading videos for feedback, including 3D printed hydrogel organs and laparoscopic training kits and software, both developed in Scotland by eosurgical.com and organlike.com. This is something that has really taken off during the pandemic. 
But it's not only technical skills like operating and performing procedures that are simulated. The trainees will also practise 'human factor' skills like team-work, leadership, communication and decision-making. 
The training is delivered around the country. For example:
in Inverness and Lanarkshire, skills centres have expertise in simulating ward rounds and other team activities using volunteer patients and mannequins.
In Edinburgh the Royal College of Surgeons is developing consultation skills training.
In Dundee and Glasgow there are centres where operations and operating theatre scenarios can be simulated.
Prof Kenneth Walker, Consultant Surgeon, Associate Dean and Simulation Lead for Core Surgical Training said:
"It's a no brainer that we should be using more simulation, but it needed proper integration into our training programmes. Scotland has been the perfect setting to pull it off. It's the lightbulb moments that are most exciting, as trainees learn profound things that they otherwise would have had to learn the long way, on the job."
Mr Humza Yousaf, Cabinet Secretary for Health and Social Care said:
"The Scottish Government is delighted to support the development of simulation training for medical staff. It is an important component in the training of the highly skilled workforce that we need. This development in particular confirms Scotland as a leader in the training of surgeons."
Dr Andrea Baker, NES Clinical Skills Manager said:
"We are really excited to support this new venture which aligns with the NES five year Skills and Simulation Strategy. Our plan is to enhance and expand the use of simulation, eventually for all trainees in medical specialities, recognising the powerful role simulation has in creating a reliable, sustainable and flexible workforce for NHS Scotland."
The latest workstream will be led by recently appointed Brian Stewart, a Lanarkshire-based surgeon and educator.
---
Contact: corpcomms@nes.scot.nhs.uk