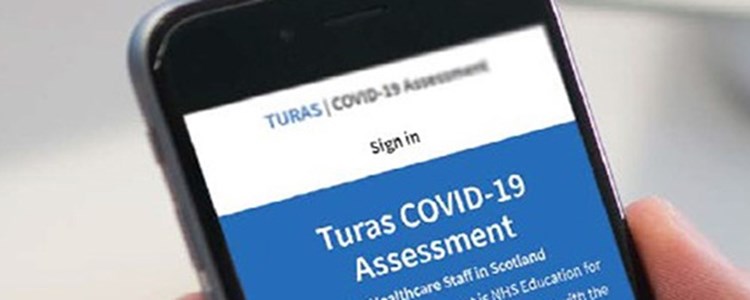 Pilot of new Clinical Assessment App
We helped develop a clinical tool that gives frontline staff confidence to confront the new coronavirus in patients. Working with colleagues in NHS Greater Glasgow and Clyde, Daysix, the Digital Health and Care Institute and NHS National Services Scotland, our Digital Team successfully developed the COVID-19 Clinical Assessment App within the space of a month, going to pilot in Community Assessment Centres in NHS Greater Glasgow and Clyde, in May.
Where previously staff would record patient information in free text, the app provides a structured format for NHS staff to assess patients in a standardised way and has proven to be extremely popular amongst frontline staff. The app prompts clinicians to record specific symptoms, patient details, and clinical decisions through a mobile or desktop app. Not only does it help clinicians identify suspected COVID-19, it also ensures signs of other illnesses or diseases are picked up too.
The information collected is saved onto a patient's medical file and is also shared with national partners to allow for further analysis to improve our understanding of the virus in the long term.
"The new COVID-19 Clinical Assessment tool is an example of a successful national collaboration to help frontline services deal with Covid-19. NHS Education for Scotland is extremely proud to have played a part in producing something with tangible benefits to health and care staff and we would like to thank our partners for coming together to make a real difference to people in Scotland.
Until now, we haven't had a standardised process for staff to clinically assess people with symptoms of COVID-19. This tool will undoubtedly make lives easier for frontline staff, thereby helping them to concentrate on what's important – making sure patients in Scotland get the best care possible."
Stewart Irvine, Chief Executive of NHS Education for Scotland
---