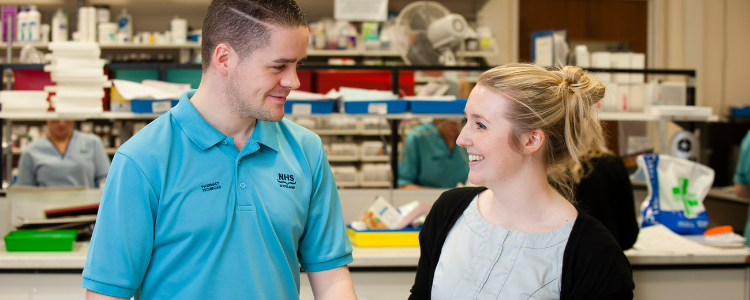 Pharmacy technician workforce in Scotland receives essential boost
A new training scheme developed by NHS Education for Scotland (NES) with £3.4 million funding from Scottish Government will contribute to the expansion of a skilled workforce providing pharmacy services, across all three health and social care sectors in Scotland.
The National Pre-registration Trainee Pharmacy Technician scheme will see the recruitment and training of up to 150 pharmacy technicians in phase 1, with a review planned for phase 2. The scheme will help to address the growing need for this important staff group across all sectors with a particular focus on supporting the pharmacy developments in GP practices across Scotland.
Pre-registration trainee pharmacy technicians will undertake the SQA Diploma in Pharmacy Services at SCQF Level 7 and relevant work experience over a two-year period, to meet the initial education, training and registration requirements of the General Pharmaceutical Council (GPhC). In addition, the Technical Apprenticeship (TA) in Pharmacy Services, will be fully maximised.
NHS Boards will begin recruitment over the coming weeks for the first cohort of 50 Pre-registration Trainee Pharmacy Technicians, due to start in April/early May 2022, with recruitment for a further 100 trainees by September 2022. Funding provision is also available to support staff who already hold GPhC registration, to develop skills to meet demand.
Professor Alison Strath, Chief Pharmaceutical Officer, Scottish Government said:
"This is a fantastic development for the profession in Scotland with the announcement of significant investment in the pharmacy technician workforce for Scotland. Pharmacy technicians are a crucial part of pharmacy services in the NHS and will increasingly contribute to core and developing pharmacy services in all sectors of the profession. This additional workforce pipeline will particularly support the expansion of the role of pharmacy technicians within GP practices over recent years and in the future."
Professor Anne Watson, NES Postgraduate Pharmacy Dean said:
"I am absolutely delighted that this national scheme has been supported, to establish a much-needed pipeline of pharmacy technicians across Scotland. Having the appropriate numbers and qualifications of the NHS Workforce will be crucial in supporting developments for the pharmacy profession and the NHS Scotland Recovery plan. The recognition of the new qualification by Skills Development Scotland as a Technical Apprenticeship, and at the level of funding to be awarded is a real credit to the profession and demonstrates the level of qualification required for the expanding role of the pharmacy technician. NES look forward to working with the key stakeholders and NHS Boards in the development of the scheme."
Pharmacy technicians are vital members of the pharmacy team, helping people get the best out of their medicines and health and social care services available within the NHS. They work in hospitals and community pharmacies where they undertake various specialised tasks, including preparing complex medicines, and dispensing and accuracy checking medicines safely for patients. They also work in GP practices undertaking medication reviews and liaising with other healthcare professionals to provide effective patient care.
Harry McQuillan, CEO at Community Pharmacy Scotland, said:
"CPS is pleased to see this development in pharmacy technician education and training. Strategically, we will be working together to increase the overall pool of qualified pharmacy technicians across Scotland and that should be a benefit to all.
"I am also delighted to see established a government-supported route into skilled employment for those seeking work. In addition to this new scheme, our network of pharmacy owners themselves, are likely to be attracted to this work-based apprenticeship model.
"Having a group of people who gain experience across different settings of practice at an early stage of their career should help improve integration across services and foster professional relationships and communications across boundaries. Our members will provide the Pre-registration Trainee Pharmacy Technicians with a rich and varied experience during their time in community pharmacy which will prepare them well for any future role. On behalf of CPS, I would wish this first cohort all the best as they start their learning journey and pharmacy career."
Melanie Bryan, Chair of the National Pharmacy Technician Group Scotland said:
"This is great news! We are pleased to see the recognition and value of the pharmacy technician profession by Scottish Government. The creation of a national pharmacy technician pipeline is a massive step forward and an integral part of the development of a future workforce plan for pharmacy services in Scotland. Building a highly skilled pharmacy technician workforce that can work across acute, primary care and community pharmacy sectors providing patient-centred care is crucial in our steps to enhance the quality of care, improve outcomes and ensure that we have sustainable services for all."
Sue Pope, Head of Science, Mathematics, and Core Skills at the Scottish Qualifications Authority said:
"SQA's innovative Diploma in Pharmacy Services enables Pre-registration Trainee Pharmacy Technicians to undertake a recognised qualification while gaining the relevant work experience needed to meet the General Pharmaceutical Council's requirements for registration. By bringing together blended learning and remote delivery, the Diploma will maximise participation from across Scotland, and help to grow the pharmacy services workforce."
---
Contact: corpcomms@nes.scot.nhs.uk