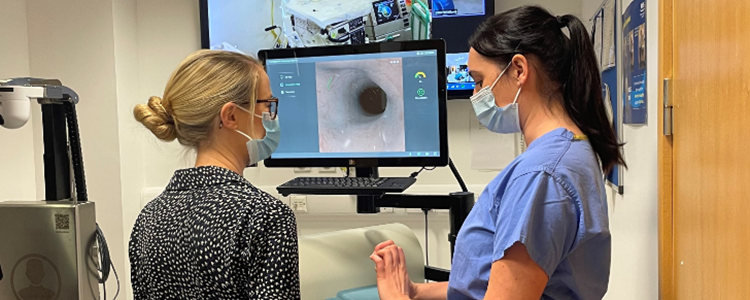 New training programme will upskill Health Care Support Workers to help future NHS workforce
An exciting new National Assistant Practitioner Endoscopy Training programme has been launched, with 7 learners from 5 health boards across Scotland participating in the first block. 
The programme will help address workforce gaps by increasing the number of staff available across NHSScotland which will make a vital difference to the care of thousands of patients in need of both diagnostic and therapeutic endoscopy procedures.   
Developed by the NHS Scotland Academy and Joint Advisory Group for Gastrointestinal Endoscopy (JAG), the programme delivers accelerated training to support a new career pathway from entry level Assistant to advanced Assistant Practitioner in endoscopy. 
Learners will gain the skills and knowledge they need to fully assist Endoscopists and nursing staff during complex procedures, whilst also supporting the patient. 
The programme adopts a blended learning approach, providing dedicated time for studying the theory in a work based environment, along with clinical simulation to support faster and more efficient training in clinical skills. 
With the current staffing pressures across the NHS, the programme will contribute to current and future demands seen within endoscopy care.   
Karen Boylan, National Endoscopy Training Programme Lead at NHS Scotland Academy, said:
"This programme is about giving learners the skills and knowledge to excel within endoscopy.

 
"It provides valuable capacity to clinical teams, reducing pressure and providing support to registered practitioners, whilst providing Health Care Support Workers an accelerated route to Assistant Practitioner roles which will retain them in the workforce.

 
"Learners will complete the Scottish Vocational Qualification (SVQ) through standardised units and 6 supporting study days that will include simulation learning, and mentorship as well as access to digital learning packages."

 
The programme will have a strong focus on delivering safe, effective, compassionate and patient-centred care in the endoscopy environment and is available to Health Care Support Workers (HCSW) who are employed in endoscopy and have completed their core training. 
For more information, visit: https://www.nhsscotlandacademy.co.uk/education-and-training/national-assistant-practitioner-programme-endoscopy/ 
---
Contact: nhsscotlandacademy@nhs.scot