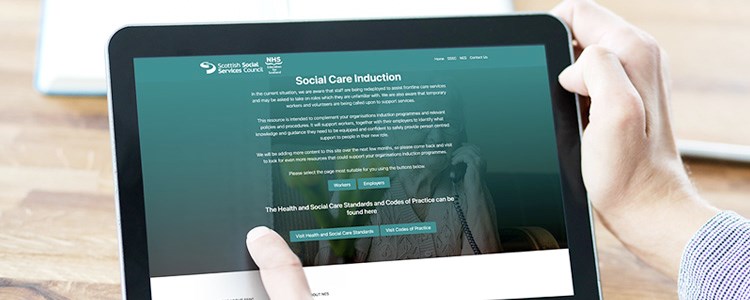 New induction resource for adult social care
As part of Scottish Government's Programme for Government (PfG) commitment to develop a national induction framework for new entrants to adult social care, the Scottish Social Services Council (SSSC) and NHS Education Scotland (NES) are working in collaboration with Scottish Government and key partners. The new framework will also support workers moving between employers or undertaking different roles. The full programme will be delivered by the end of spring 2022.
Within the current situation of staffing pressures being experienced across social care, we are aware that workers are being redeployed to assist frontline care services and may be asked to take on roles which they are unfamiliar with. We are also aware that temporary workers and volunteers are being called upon to support services.
The SSSC and NES have worked together to create an initial version of the framework, that will be updated and adapted over the coming months. Workers can use the learning assessment in the resource, together with their employers, to identify what knowledge and guidance they need to be equipped and confident to safely provide person centred and compassionate support to people in their new role.
This resource is intended to complement your organisation's induction programmes and relevant policies and procedures.
Access the new induction framework: https://learn.sssc.uk.com/induction-framework/
We would value your feedback on this resource which will inform the further development of the national induction framework.
---
Contact: hcsw@nes.scot.nhs.uk