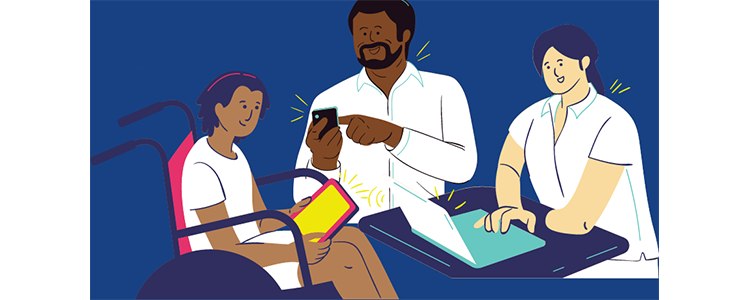 New funding for Technology Enabled Care (TEC) learning supports health, housing, and social care practice
During 2021-2022 NES provided funding for 30 candidates to study the Professional Development Award in Technology Enabled Care.

Following the successful uptake of the funding across health and social care, NES, during 2022-23 will fund 56 further candidates from health, housing and social care, in partnership with Bon Accord Support Services, Aberdeen, an SQA approved delivery centre offering the qualification through online distance learning.

The funding is available to candidates who agree to complete the mandatory unit – Working with Technology Enabled Care and the optional unit – Using Digital Technology to Support People in Health, Housing and Care. (No funding is available currently for other optional units).

The funding is aimed at candidates who are employed in a frontline role in:
a Health and Social Care Partnership
a Health Board or
a social care or housing organisation from the public, private or third sector
Professional Development Awards (PDAs) extend or broaden professional or vocational skills linked to National Occupational Standards. The PDA in Technology Enabled Care at SCQF level 7 is to help equip Scotland's workforce with the knowledge and skills required to embed Technology Enabled Care into health and social care practice supporting positive health and wellbeing outcomes for people.

The design and development of the award supports Scotland's National Digital Health and Care Strategy (Scottish Government, 2021). This promotes the concept of supporting people to live, learn, work, participate and flourish in an ever-changing digital society. While preparing the workforce to deliver different types of services in different (online) ways.

Pamela Dimberline, Specialist Lead, Digital Health and Care, NES, said:
"We're delighted to be continuing to work with Bon Accord Support Services offering further funding for 56 places over the next twelve months.  Last year we had an unprecedent number of applicants so this year to be able to offer more candidates the opportunity to undertake this qualification is very rewarding. The knowledge and skills gained from completing the PDA in Technology Enabled Care will empower candidates to develop their practice to benefit citizens and services."
A cohort one candidate from Glasgow City Council Social Work, said about their experience of the PDA in TEC:
"…it made me challenge my own pre-conceptions of what is best for service users and reflect on what I am doing well and what I can improve upon. The support given by my tutor was first class"
A cohort two candidate, a CVS Inverclyde Community Link Worker, added:
"[The course] was excellent… I learned so much from each part. My tutors were brilliant."
A cohort three candidate from NHS 24 said:
"As a Call Handler I feel any way I can improve in my role benefits service users/patients using the service providing a better patient journey and I have gained more confidence in communication skills. I would recommend the PDA in TEC to anyone thinking about it."
To find out more visit PDA in TEC | Turas | Learn (nhs.scot) or contact nes.dew@nhs.scot

The application process is open from Monday 7 March until Monday 4 April 2022.

Completed applications must be received by 5pm Monday 4 April 2022.
---