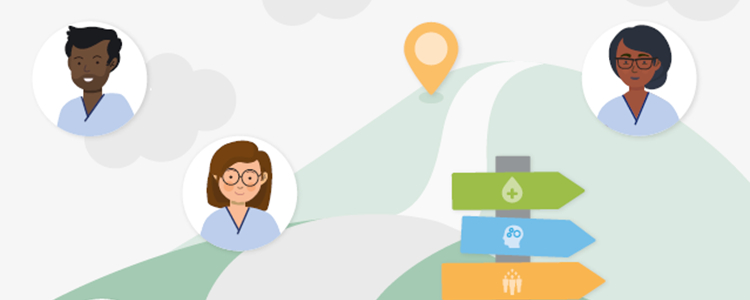 New Framework for NMAHP Healthcare Support Workers promotes consistency in knowledge, skills and career progression
A new Development and Education Framework for Levels 2 - 4 NMAHP Healthcare Support Workers (HCSWs) is published today. A virtual launch event supported by the Chief Nursing Officer, Alex McMahon and Chief Allied Health Professions Officer, Carolyn McDonald, Scottish Government will host over 600 delegates.

The framework describes nationally agreed core knowledge and skills expected at each HCSW career level, the education and training to support this and the opportunities for progression. It aims to promote consistency and to make the best use of the skills and competencies of healthcare support workers. It also helps teams to define the HCSW's scope of practice in specific clinical settings to ensure safe and appropriate delegation and supervision takes place.

Collectively there are more than 21,000 clinical Support Workers across nursing, midwifery and allied health professions in NHS Scotland. They play a vital role at all career levels across health and care settings. The development of this workforce has the potential to be an effective response to system pressures enabling them to provide valuable support to registered staff.

Alex McMahon, Chief Nursing Officer (CNO), Scottish Government said:
"Healthcare support workers are a vital and valuable workforce across NHS Scotland and the development of the Education and Development Framework ensures that we can not only support this workforce to develop, but can also better support the registered workforce to delegate safely to these colleagues.

"This Framework also has the potential to create opportunities for learning that can ensure a consistent and robust pathway to career progression.

"I'm delighted to launch the framework today and to learn more about what our healthcare support workers think about it and how they intend to use it."
Karen Wilson, Deputy Chief Executive, NES, said:
"I am pleased that we have now completed phase 2 of this important commission. Healthcare support workers' learning and development is essential to support the valuable contribution they make to the team in providing safe, effective and person-centred care. Delegating care activities appropriate to the career level of the HCSW will enable registered practitioners to maximise their role in managing and delivering more complex and specialised care."
In October 2021, the Chief Nursing Officer commissioned NES to undertake work to support the development and expansion of Career Levels 2 - 4 of the nursing, midwifery and allied health professions (NMAHP) workforce. Central to this was a review of career pathways and the development of a nationally agreed development and education framework.

Previously, in phase one of the commission, the framework had focused on healthcare support workers at Career Levels 3 and 4 supporting the nursing workforce.

The new framework will be incorporated into NES's NMAHP Development Framework, which includes the knowledge, skills and behaviours for Levels 2 – 8 of the NHS Career Framework for Health www.nmahpdevelopmentframework.nes.scot.nhs.uk.
---
Contact: corpcomms@nes.scot.nhs.uk