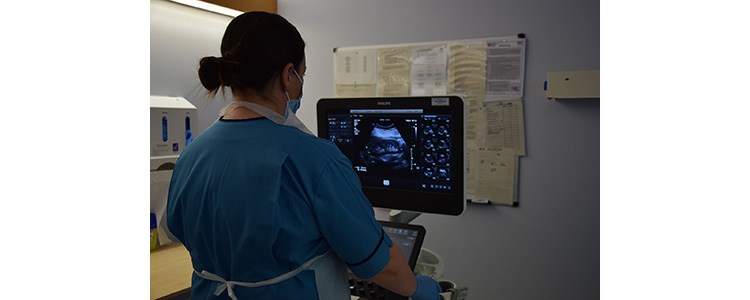 National Ultrasound Training Programme to aid NHS Scotland Recovery
An innovative training collaboration will play a vital role in supporting the NHSScotland Radiology Recovery Plan by significantly boosting ultrasound training numbers across the country.
The ambitious project is a pioneering collaboration between the NHS Scotland Academy, the Scottish Radiology Transformation Programme, Scottish Government and Glasgow Caledonian University.
Learners taking part in the programme will be provided with dedicated mentorship and practical support out with their current roles, facilitating additional training opportunities without impacting health boards staffing levels.
Dedicated training lists with clinical experts will facilitate protected training opportunities for trainees to integrate theory and practice and develop clinical competence.
The training programme will upskill sonographers to carry out ultrasound procedures, directly benefitting patients by reducing ultrasound waiting times, both during training and once qualified.
The National Ultrasound Training Programme will provide even the most rural health boards with access to expert mentorship and training from experienced professionals from across the country.
The collaborative approach will also provide access to state-of-the-art training facilities, offering learners hands-on experience that will help meet the increasing demand within radiology services.
Caroline Handley, Diagnostics Service Manager at NHS Golden Jubilee, said:
"The demand for ultrasound examinations currently exceeds capacity across NHSScotland.
"The establishment of a National Ultrasound Training Programme is a really exciting new approach for training sonographers. This new venture will ensure practical training is available to those who need it without interrupting existing ultrasound services.
"Patients will benefit from this collaboration as the  ultrasound capacity for NHSScotland in the long run will increase, with a larger number of sonographers being trained each year."
Karen Wilson, Deputy Chief Executive (Clinical) and Director of Nursing at NHS Education for Scotland, said:
"This national programme offers real potential to improve access for patients whilst providing excellent development opportunities in transforming roles for radiographers and those who have a role in facilitating learning."
Dr Diane Dickson, Head of Department Podiatry and Radiography, Glasgow Caledonian University, said:
"The National Ultrasound Training Programme offers clinical training opportunities required for successful completion of our Consortium of Accreditors for Sonographic Education (CASE) programme.
"Securing suitable mentorship and protected training lists are a key challenge for our medical Ultrasound trainees due to existing workforce pressures and competing demands.
"We are delighted to be working with the National Ultrasound Training Programme which offers an exciting development to continue to grow and enhance the existing workforce to meet increased demand for sonography advanced practitioners."
Greg Thompson, National Programme Director at the Scottish Radiology Transformation Programme, said:
"The National Ultrasound Training Programme is a fantastic example of collaboration across NHS Boards, Higher Education Institutions and Scottish Government.
"Staff will benefit from a new approach to training, allowing them to progress in their careers.
"At the same time, the NHS Scotland Academy approach means increased capacity for patients requiring ultrasound."
The NHS Scotland Academy is a partnership between NHS Education for Scotland and NHS Golden Jubilee.
The Academy has successfully implemented training across a number of specialties to address evolving and emerging workforce needs, including endoscopy, perioperative nursing and pharmacy.
---