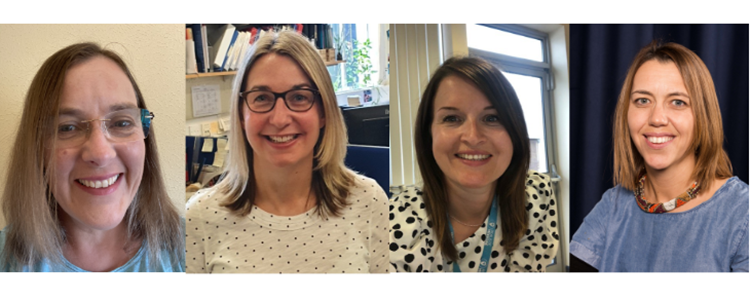 Meet our 2020 Scottish pharmacy clinical leadership fellows
The Scottish Pharmacy Clinical Leadership Fellowship scheme (SPCLF) which was launched in 2018 has been successful in supporting future pharmacy leaders and taking forward strategic objectives to improve the pharmaceutical care of patients in Scotland.
The scheme aims to provide NHSScotland with the next group of senior pharmacists and pharmacy technicians who are committed to pharmacy development and have enhanced capability to offer leadership in their workplace and potentially at national and international level.
The four SPCLFs (2020) Cohort 3, who will be working on projects related to hospital electronic prescribing (HEPMA) and pharmacogenomics during their fellowship year, are:
Lynsay Lawless (NHS Ayrshire and Arran) HEPMA
Katherine Davidson (NHS Lothian) Pharmacogenomics
Alison Crooks (NHS Dumfries and Galloway) HEPMA
Jennifer Laskey (NHS Greater Glasgow and Clyde) Pharmacogenomics
Dr Parr, Chief Pharmaceutical Officer, Scottish Government said:
"The last few months have brought into sharp focus the need for strong and resilient clinical leadership across the health and social care system. The pharmacy clinical fellows scheme which we initiated in 2018 clearly contributes to strengthening our professional leadership capability for the future. These posts will have a vital role in these innovative areas of pharmacy practice and are key to helping us achieve our vision for pharmacy as an integral and enhanced part of a modern NHS in Scotland'."
Professor Anne Watson, NES Postgraduate Pharmacy Dean added:
 "We look forward to coordinating and hosting the third cohort of Scottish clinical pharmacy fellows again as part of this exciting opportunity. I am sure that the individuals involved will be hugely successful in these roles and will be leaders in the profession of the future. They will drive forward key areas of pharmacy service and professional development in Scotland. We look forward to also linking them with the other clinical leadership fellows from England as well as from the medical and dental professions in Scotland."
Seconded to NES for 3 days a week, the newly appointed fellows will spend the next 12 months working closely with Scottish Government, NHSScotland pharmacy leaders and other key stakeholders to take forward crucial areas of work related to hospital electronic prescribing and pharmacogenomics.
They will be provided with national leadership training, coaching and mentorship and will undertake a tailored development programme with other professions including medicine and dentistry.
---