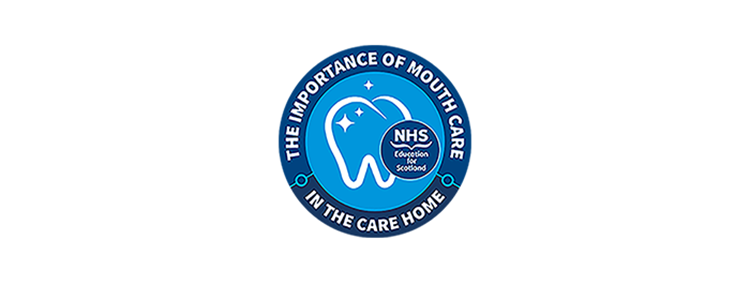 Launch of Open Badges on Oral Health
The Priority Groups workstream, within the Dental Directorate, are now able to launch its first Open Badge on Mouth Care.
'The Importance of Mouthcare in the Care Home' covers how to deliver mouth care for dependent older adults, the importance of mouth care in palliative / end of life care and PPE considerations.
The learning resource is the culmination of collaborative work with Scottish Social Services Council (SSSC) and colleagues from digital and communications. The badges will be issued by our Dental Priority Groups and hosted on the SSSC website with the learning resource housed on Turas Learn.
Open Badges are digital records of achievements and skills gained through learning and assessed and evidenced in the form of reflective writing. These can be collected and grouped together as an electronic portfolio. They can be shared with someone, for example a line manager, who can see the criteria against which the badge was issued, and any evidence provided, as proof that the criteria were met -including feedback. Open Badges can also be downloaded as printable certificates.
The intention is to build up a suite of Open Badges on oral health and related topics to support and underpin the national oral health improvement initiatives aimed at priority groups. Individuals can choose topics relevant to their particular situation and build up an evidence portfolio of their learning. It is hoped that this may appeal to people from health, social care and third sector backgrounds - who are involved in the oral health of priority groups - but who have not previously considered undertaking any formal learning in the subject.
As 'face to face' training is currently not possible because of COVID-19, completing the open badge will provide some basic mouth care information for care home staff and help support the 'Caring for Smiles' oral health improvement initiative.
An Open Badge aimed at the Care at Home services is due to be issued very shortly with more to follow in the coming weeks and months.
---