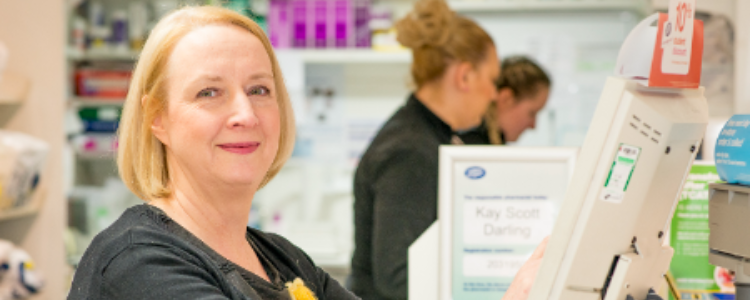 Huge increase in Independent Prescribing training for pharmacists addresses service demand
The largest ever cohort of pharmacists will undertake the Practice Certificate in independent prescribing in 2022. As a result of increased service demand NES is funding a total of 186 additional places. These will go to community, hospital and primary care pharmacists working in Scotland who were already on the 2021/22 waiting list.
The increase supplements 244 places funded in 2021/2022 and supports the ambitions of pharmacy in Scotland across all sectors. The Dundee Clinical Skills Collaborative will provide additional consultation and clinical assessment skills to enhance the training.
These initiatives will support delivery of:
the NHS Pharmacy First Plus service in community pharmacy;
pharmacist-led clinics in primary care as part of the pharmacotherapy service;
and inpatient and outpatient prescribing in secondary care.
Professor Alison Strath, Chief Pharmaceutical Officer, Scottish Government said:
"Pharmacist independent prescribers are already playing a vital role in the delivery of high-quality pharmaceutical care in community, primary care and hospital pharmacy services across Scotland. As the NHS recovers from the pandemic, new models of care are emerging in both planned and unscheduled care, delivered by integrated multidisciplinary teams. This additional funding will support our ambitions to build greater clinical capacity and capability, better manage demand, improve safety, and support the redesign of traditional professional roles and boundaries to advance patient care. These developments, alongside the advances in the initial education and training of pharmacists, offer a wonderful opportunity to ensure that pharmacists' specialist knowledge in medicines is utilised to best effect for the health and well-being of the people of Scotland."
Professor Anne Watson, Postgraduate Pharmacy Dean, NHS Education for Scotland (NES), said:
"I am delighted that we have been able to work with key partners to secure additional funding to increase pharmacist independent prescribers in Scotland. These additional training places respond to a service need to widen patient access to pharmaceutical services across all sectors of pharmacy practice.

"Having the appropriate numbers and qualifications in the NHS Workforce will be crucial to support developments for the pharmacy profession and the NHS Scotland Recovery plan. The recognition of the need for prescribing pharmacists to deliver accessible, timely patient care, together with the level of funding awarded, is a real boost for the profession. The collaboration and commitment of all stakeholders involved to make this happen is hugely encouraging. NES look forward to working with key stakeholders and NHS Boards to co-ordinate the training for these pharmacists."
Harry McQuillan, CEO at Community Pharmacy Scotland, said:
"Such is the commitment from the community pharmacy network in Scotland to supporting independent prescribing and the development of the NHS Pharmacy Plus service, that pharmacy owners have allocated funding from their negotiated financial envelope to ensure all community-based pharmacists on the 2021/22 waiting list have the opportunity to undertake this qualification. Community Pharmacy Scotland is grateful to our colleagues at NHS Education Scotland for working with us to devise and secure such an expansion."
---
Contact: corpcomms@nes.scot.nhs.uk