Getting the most out of the early intervention framework
Following last year's launch of the Early Intervention Framework for Children and Young People's Mental Health and Wellbeing website, further guidance on its use and how to get the most out of the website has been produced.
The framework is a searchable database of evidence-based mental health and wellbeing interventions from the antenatal period to 18 years.
The framework provides information about interventions across six dimensions, based on the hexagon tool below (developed by the National Implementation Research Network).
The six dimensions are:
Usability
Supports
Evidence
Fit
Capacity
Need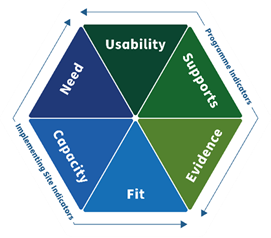 To help website users get the most out of the site, and to increase knowledge about the dimensions and the rating system, we have added two webinars to the NES - Early Intervention Framework - Home (nhs.scot)
1.      Learn More About the Hexagon Indicators
The first is a 40-minute session with information about:
the six indicators of the hexagon model
how the three programme indicators - Usability, Supports and Evidence - were rated
how guided questions within the self-assessment section of the framework help the user rate the implementing site indicators - Capacity, Need and Fit
Find this webinar NES - Early Intervention Framework - Home (nhs.scot)
2.      Learn more about the resources available to support the use of the Early Intervention Framework
The second is 30-minutes long and provides information about three resources.
These resources can help you prepare for use of the Early Intervention Framework and gather the relevant people, and information, ready to rate all three of the Site Indicators and make decisions about the interventions you may wish to invest in.
Stakeholder engagement guide
Helps you identify who your stakeholders are, ensuring you engage those who have the best understanding of the needs of the population and community you serve.
Root Cause Analysis
Five Whys tool – helps you develop a deeper understanding of what the need of your population is by exploring what the cause of the challenges you population is experiencing may be.
Programme Inventory Tool
Can be used to systematically record interventions offered in the local community and examine how well a new offer might fit with what is already available. This tool also helps you identify gaps in provision or, identify where there are already effective interventions meeting a community's needs.
Find this recording NES - Early Intervention Framework - Home (nhs.scot)
Lauren Corlett, Principal Educator - Psychology of Parenting, NES Psychology said:
"By providing implementation information about each intervention, and supporting the use of the website, we hope that services across Scotland will be well informed about which early interventions will best suit their need, fit within their local context and are sustainable."
"We hope that this additional support builds on and ensures that the resources can have the maximum impact possible."
---
---