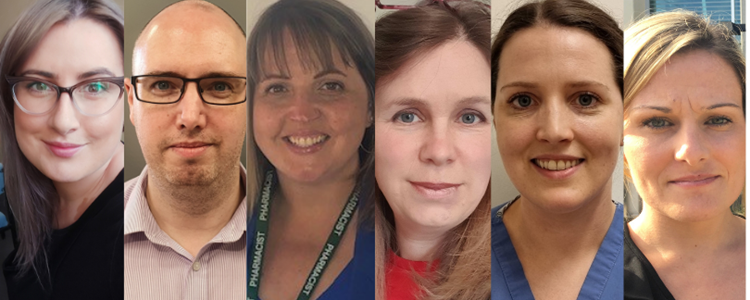 First Scottish Pharmacist Clinical Academic Fellows appointed
The first cohort of Scottish Pharmacist Clinical Academic Fellows (SPCAFs) has been offered to six applicants, strengthening future pharmacy research.
Clinical Academic Pharmacist fellowships in Scotland are designed to drive forward evidence and practice in relation to the development of Pharmacy services in Scotland as well as support the Pharmacy Postgraduate Career Framework review. These posts will provide the opportunity to develop research skills applied to a defined clinical area through completion of a research project and qualification
The first cohort of Scottish Pharmacist Clinical Academic Fellows (2021-23) are (pictured here, L-R): 
Joanne Adam, NHS Tayside
Derek Jamieson, NHS Greater Glasgow and Clyde / Lloyds Pharmacy
Laura Karim, NHS Grampian / Peterhead Health Centre Consortium Ltd
Mairi-Anne McLean, NHS Greater Glasgow and Clyde
Alison O'Prey, NHS Greater Glasgow and Clyde
Lyndsay Steel, NHS Orkney


Recruitment for these posts was a collaboration between NHS Education for Scotland (NES), Robert Gordon University and the University of Strathclyde, and funded by the Scottish Government's Chief Pharmaceutical Officer. As experienced pharmacists, the SPCAFs will develop research skills and professional leadership in their clinical areas through the development of evidence-based practice, whilst maintaining links to their current service.
Professor Anne Watson, Postgraduate Pharmacy Dean, NES, said:
"NES Pharmacy is very proud to announce the appointment of the first Scottish Pharmacist Clinical Academic Fellows. This is a fantastic opportunity for the fellows to gain essential research and professional leadership skills, while being supported by the Schools of Pharmacy, the service and NES. We hope that the research outputs from these fellowships will not only advance pharmacy practice in Scotland, but will also help us embed research into everyday practice for the profession."
Scotland's Interim Chief Pharmaceutical Officer Alison Strath said:
"One of the key earmarks of the pharmacy profession is how it commissions and uses research to inform and understand pharmacy practice and to ensure that pharmacists' knowledge and skills are used to best effect.
"I am therefore delighted to see the appointment of these six clinical research fellows who, in addition to enhancing their personal portfolios, including achieving an MPhil research degree, will make a meaningful contribution to person-centred care. By taking forward the Scottish Government's strategy, Achieving Excellence in Pharmaceutical Care through these fellowships we will continue to help develop future pharmacy leaders."
Professor Marion Bennie, Professor of Pharmacy Practice, University of Strathclyde and Professor Scott Cunningham, Professor of Pharmacy Education & Practice, Robert Gordon University jointly stated:
"This is an exciting opportunity for developing clinical academics and collaborations between academia and NHS Boards in the context for research in pharmacy education and practice. The response to the call for applications was fantastic and quality of applicants very high.
"Through these fellowships we will help develop future leaders in clinical academic practice, gather an evidence base for making healthcare better for patients and stimulate further the ethos and culture of research and collaboration across sectors. We very much look forward to welcoming these Fellows to the Universities and to support them on their research journey."
---
Contact: pharmacy@nes.scot.nhs.uk