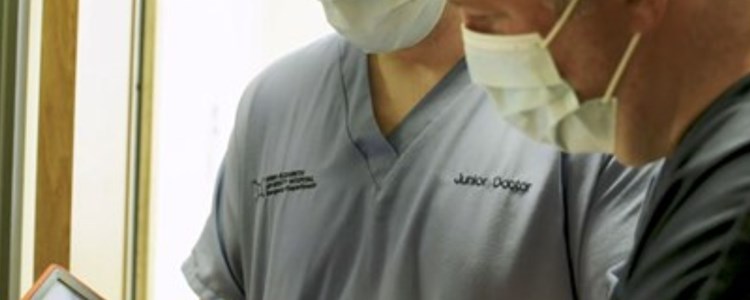 Covid-19 assessment app, improving care
The Covid-19 clinical assessment tool was developed by NES digital, working closely with clinicians and a cross-sector team to help in the fight against COVID-19
This project is an excellent example of bringing together the right skills, knowledge and experience, including clinical, technology and planning - and collaboration across public and private sectors.
It took just eight weeks to clinically model, prototype, validate, build, test, pilot and integrate a COVID-19 assessment tool into clinical practice in Scotland. This would not have been possible without our technological capability, and a collaborative approach.
The tool allows COVID-19 clinical assessment data to be collected at the point of care, in real time and in a structured format (based on World Health Organisation guidelines) - to improve situational awareness, decision making, safety and handover.
The data gathered can then be transferred to other clinical systems as part of the patient record, provide analytics and reporting inside the app to provide local intelligence and also integrate with other national reporting systems.
Features include:
the removal of the need for paper forms
an intuitive format
increased assessment consistency
a PDF summary combined with the patient's record
quality data for research
mobile, tablet and desktop compatibility
built on secure NES digital platform
The tool has been rolled out to specialist Covid-19 assessment centres and hospital contexts in NHS Greater Glasgow and Clyde in Scotland. It has proved successful with overwhelmingly positive feedback from users. We are now working on rolling the tool out to other NHS Scotland Boards.
David McColl, NES digital chief technology officer and responsible for the technical delivery of the Covid-19 assessment tool, reflecting on the project and what it means for how the NHS approaches technology now and in the future, said:
"Technology should be able to adapt quickly, to support our response to a crisis like this pandemic. NES Digital already had the people and the infrastructure in place to meet this new and sudden requirement.
"We were able to make use of our Turas cloud-based technology platform that provides services to over 500,000 people in NHS Scotland and beyond. We had the capability to build scalable web applications and services that are easy to use, secure and accessible on any device. This gave us a fantastic head start when we started work on the clinical assessment app - as we were able repurpose a lot of existing code, infrastructure and knowledge.
"NES digital has an established delivery methodology that focuses on releasing value early and often. All our software developments go through stringent testing processes to ensure any mistakes are detected early – so that by the time a piece of functionality reaches production, the risk of it not working as expected is minimised. This is particularly important in a clinical system.
"This was a great project to be involved in and one which teaches us a lot about how we can deliver innovative technological solutions at pace and at scale that support the health of the people of this country."
Useful links
For more information on the app functionality and the development process check out the COVID-19 Assessment App website
---