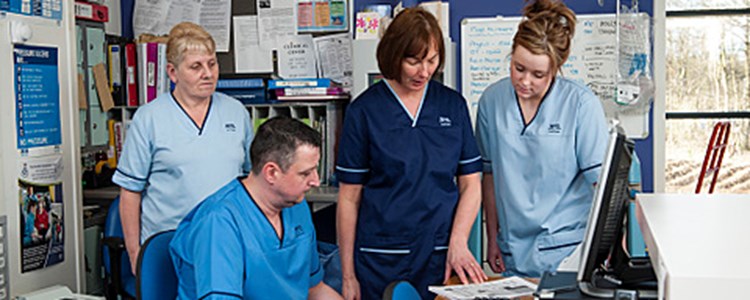 Coronavirus recruitment portal attracts 18,000 applicants
Since its launch on 28 March, the NES Accelerated Recruitment Portal has received 17,883 applications from individuals keen to support the NHS during the coronavirus (COVID-19) pandemic.
All applicants in the system up to 30 April are now being processed including pre-employment checks and matching to local employment needs in health boards and social care settings across Scotland.
Data from the 17,883* applicants via the NES Accelerated Recruitment Portal is broken down as follows:
6,904 NHSS Student applicants (39%):
5440 nursing students                                                                 31%
405 midwifery students                                                                2%
662 medical students                                                                    4%
106 final year Allied Health Professions students             1%
291 other students                                                                         2%
8,278 retired or former health and social care professions applicants (46%):
3053 nurses                                                                                     17%
1512 doctors                                                                                     9%
307 physiotherapists                                                                     2%
366 biomedical scientist                                                              2%
190 occupational therapists                                                       1%
221 midwives                                                                                    1%
82 paramedics                                                                                 <1%
2547 care professionals                                                               15%


*Data as at 26 April. Percentages calculated against total number of applicants (17,883). The breakdown above does not add up to the total (17,883) as while it includes a selection of identified roles, it does not include other roles such as drivers, speech and language therapists and podiatrists among others.
NES Chief Executive, Professor Stewart Irvine said:
"The Portal is the NES contribution to the Scotland Cares campaign recruitment drive designed to attract retired health and social care professionals and students from a variety of health disciplines to join the NHS and help Scotland's response to coronavirus (COVID-19).
"We are immensely grateful to everyone who has applied to offer their skills and experience to help the NHS fight the virus and ensure we can deliver patient care where it is needed most."
The response has been so great that the Scottish Government recruitment campaign has been paused temporarily. However, everyone who registered their interest through the Portal before 30 April will be processed.
---