NHS Boards
Note that other training providers are available to view on the TPI site – The training providers below have chosen to supply additional information to support candidates.
NHS Tayside
NHS Tayside provides the programmes for the North Region of Scotland. We offer twelve programmes that cater for trainees who seek to experiences practice in a variety of sectors the core of which is 4 months in a acute hospital setting and six months in a community pharmacy. The speciality / optional blocks support your professional practice development by giving you an opportunity to work within a specialist clinical team, primary care setting or the NHS Scotland Specials Production Service.
With the new services and roles that pharmacists are required to deliver and undertake, the modular approach allows you to develop your prioritisation skills, problem solving and person centred practice within a busy community environment and the acute hospital setting. Our trainees over the past three years have indicated that the blend of community and hospital has supported their preparation for the registration assessment. Many have continued to work in more than one sector following registration as they have felt confident and able to practice in different sectors. We have provided a powerpoint of some quotes we received from our trainees last year. If you require further detail please do not hesitate to get in touch.
NHS Tayside modular details [PDF]
Jack was employed with Well Pharmacy and worked in Arbroath for his first six months he explains how the modular programme structure has supported his learning.
Ruth was based in Stracathro Hospital and spent some time working with her tutor in Primary Care during the Pandemic period before finishing her training and starting her role as a provisional registered pharmacist with Davidsons Chemist.
NHS Fife
Please watch the video below to find out what NHS Fife can offer you. You will see an introduction to the pre-registration training programme in NHS Fife from Ben Hannan, the chief pharmacist for acute services. Euan Reid, one of our senior management team, talks about the medicines management service and our current pre-registration pharmacists have provided an overview of their experience of undertaking their pre-registration training in NHS Fife. Finally Scott Garden, our Director of Pharmacy and Medicines provides a description of the vision for an integrated NHS Fife pharmacy service.
Note that our zoom call open days are now finished.
NHS GGC
NHS Greater Glasgow and Clyde (NHSGGC) is the largest NHS organisation in Scotland with the biggest hospital pharmacy team, offering full time hospital sector pre-registration training for 13 graduates. This programme has a track record of producing well rounded pharmacists who successfully secure permanent Foundation Pharmacists posts post-qualification.
Please see our Training Provider Information statement for further information about our organisation and our training programme here
We believe that a great pre-registration year is a building block for your career and we support our trainees to gain as much as possible from all the experiences offered. You will have access not only to all training associated with the NES pre-registration pharmacist programme, but also our West of Scotland hospital pharmacy pre-registration training programme and local support/tutorial events. You will also be invited to NHS GGC pharmacy events such as our leadership development conversations, strategy events and local peer review and professional development sessions.
Open events
As we are unable to invite students to visit our sites because of Covid-19, we offer six virtual open days using MS Teams. You will have the opportunity to have your questions answered by pre-registration pharmacists, Foundation pharmacists, tutors and the NHS GGC Education and Training team. Links for events will be sent out prior to each meeting and you can choose to join a session that suits you.
Tuesday 13th October - 7pm
GET IN TOUCH!
If you are interested in joining the mailing list for these events, please contact:
pharmacyeducationtraining@ggc.scot.nhs.uk
Using PRPS2021 as the subject title.
Please let us know what university you are from as well as any questions you would like answered during these sessions. This email address can also be used to ask follow up questions after the event.
Video - Lesley Dunbar, Senior Pharmacist Education and Training
Video - Andrew Carruthers, Senior Pharmacist Medicines Governance
Video - Cameron Hannah, Pre-registration trainee, RAH
Video - Joshua Miller, Rotational Pharmacist, RAH
Video - Yvonne Phillipson, Pre-registration Trainee, NHS GGC
Video - Bik Yun Chai, Pre-registration Tutor, NHS GGC
To find out more about the variety of work going on in NHSGGC pharmacy, follow us on Twitter @NHSGGCPharmacy
NHS Grampian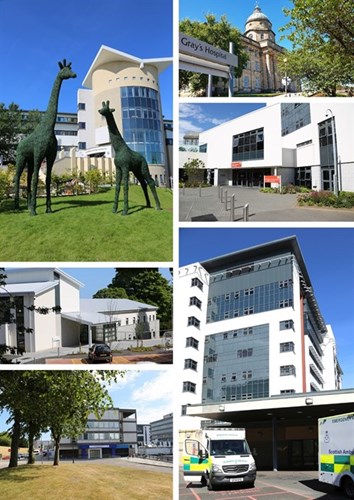 NHS Grampian covers a large geographical area across the North-East of Scotland and provides healthcare to a population of approximately 550,000 people. NHS Grampian is at the forefront of healthcare in Scotland. We opened the first major trauma centre in Scotland, we have the only Adult Respiratory ECMO centre and have one of the two hyperbaric centres in Scotland. In addition we are about to start building the Baird Family Hospital, Anchor Cancer Centre and a new Elective Care Centre. We will also be introducing a Regional Hospital Electronic Prescribing and Administration system (HEPMA) across NHS Grampian in collaboration with the other 5 North of Scotland NHS Boards.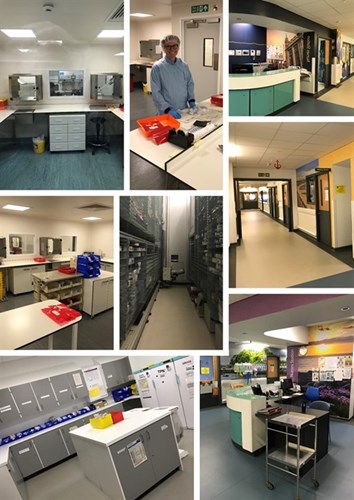 The main site for your pre-registration year will be based in Aberdeen Royal Infirmary and we are offering for the first time (starting July 2021) a place at Dr Gray's Hospital in Elgin. Our pre-registration year will give you a taste of all aspects of hospital pharmacy and aims to allow you to experience how pharmacy services are delivered across the hospitals. You will experience a wide variety of specialties in your clinical pharmacy placements including medical, surgical, oncology, haematology, palliative care, mental health, paediatrics, neonatal and maternity care. You will have placements in all aspects of pharmacy services such as dispensary, distribution, aseptic services, radiopharmacy, clinical trials and quality assurance. In addition you will train with the team in the Grampian Medicines Information Centre in ARI.
As part of your training you will have a week dedicated to an audit project and present your research to your colleagues. This is a chance for you to work more in-depth in an area of interest and develop your research skills.
For a closer look at our paediatric service see the recent BBC programme, The Children's Hospital.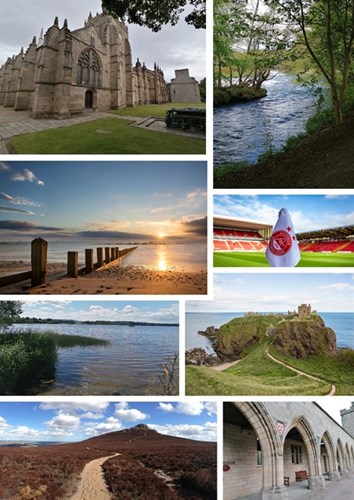 Grampian is a great place to live and work with such diversity across the region and opportunities for everyone, especially if you like outdoor pursuits.
What previous pre-registration trainees in 2019-20 have said about their training experience:
"The pre-reg year offers a great variety of experiences across many sectors and different specialities with continuous opportunities to learn. The whole team in ARI are extremely welcoming and supportive and are enthusiastic about teaching. It has been an amazing experience and every aspect has helped to prepare us for our future careers as pharmacists."
"The team at ARI were very welcoming and I never once felt I couldn't ask for help as pharmacy is very close knit and there are always plenty of specialist pharmacists nearby!"
NHS Lanarkshire
Thanks for your interest in pre-registration training in NHS Lanarkshire. We are keen to show you what our programme includes and to answer any questions you have about this.
Please find our pre-registration pharmacy website.
This has details of our training programme and some further information about NHS Lanarkshire. You can hear from our staff who will be involved in your training, see round the pharmacy departments and also get an insight into the experiences of our pre-registration pharmacists who are with us this year.
Note that our webinars are now finished.
NHS Lothian
Thanks for your interest in pre-registration training in NHS Lanarkshire. We are keen to show you what our programme includes and to answer any questions you have about this.
We have a pre-registration pharmacy website.
This has details of our training programme and some further information about NHS Lanarkshire. You can hear from our staff who will be involved in your training, see round the pharmacy departments and also get an insight into the experiences of our pre-registration pharmacists who are with us this year.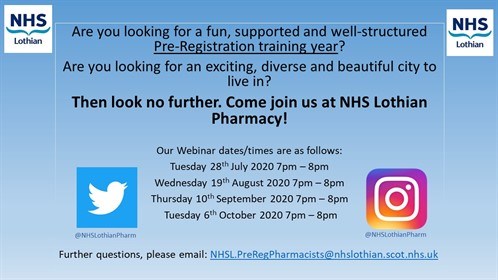 Hello All,
We are delighted to welcome you to NHS Lothian's Pre-Registration Webpage! Thank you for stopping by!
NHS Lothian Pharmacy is now on Instagram and Twitter! Follow us @NHSLothianPharm! We will be uploading media from our own Pre-Registration Pharmacists and essential members of our pharmacy teams!
In addition to our social media pages, we will be hosting a series of Webinars. These will run from 7pm to 8pm on the following dates via Microsoft Teams:
Tuesday 6th October 2020 https://tinyurl.com/PreRegEvent061020
The webinars will discuss the highlights and triumphs of our Pre-Registration training programme. You will be joined by members of the NHS Lothian Pharmacy team, including our current Pre-Registration Pharmacists and Tutors, Rotational and Specialist Pharmacists and the Lead Pharmacists from areas of Senior Management or Education and Training. These individuals will discuss the successes of their careers and what it is like to live and work in Edinburgh and the Lothians.
We hope you are able to join us at one of our events! There are limited spaces available so sign up early to avoid missing out! To register for the event please follow the link for your preferred date in our beautiful poster! Or alternatively, please click on the link next to your preferred date.
Please note, the sessions will all follow the same format, so we kindly ask you only register for one event.
Any questions in the interim about our Pre-Registration Training programme or our Webinars, please email NHSL.PreRegPharmacists@nhslothian.scot.nhs.uk
Find information on NHS Lothian and our hospital sites.
Please find a poster for these events [PDF].
Look forward to meeting you all in the virtual world!
David and the NHS Lothian Pharmacy Team
NHS Borders
NHS Borders are offering the exciting opportunity for trainees to choose a training programme that best fits their interests and goals. We are offering 3 training posts and trainees can choose to complete a 12 month hospital placement or split the training, completing 6 months in hospital and 6 months in primary care. All trainees will also complete a 4 week placement in community pharmacy therefore you could have the opportunity to develop your skills across all 3 sectors in your pre-reg year if you wanted.
For more information sign up to one of our virtual open days by emailing gillian.elkin@borders.scot.nhs.uk and let us know what date you would like to join.
Note that our  virtual open days are now finished.
We'll be using Microsoft Teams so will send out links to participants closer to each event. In the meantime check out our Training Provider Information and NHS Borders Pharmacy Twitter account.
There will also be videos from our pharmacy team available here end of July so stay tuned.
NHS Ayrshire & Arran
Welcome to the NHS Ayrshire & Arran pre-registration pharmacist programme.
Pre-registration Pharmacist Programme in NHS Ayrshire & Arran
Find out more about the exciting pre-registration pharmacist programme offered in NHS Ayrshire & Arran. All your questions answered about what to expect when working and training in our health board.
Pre-registration Pharmacists in NHS Ayrshire & Arran
Meet our wonderful pre-registration pharmacists working and training in NHS Ayrshire & Arran. Find out more about what to expect from our training programme and what it's like to be a pre-registration pharmacist in our health board.
To give you an insight into what you year might look like in NHS Ayrshire & Arran, take a look at the timetable [PDF] for the 5 pre-registration pharmacists starting their training in August 2020. This involves 2 trainees undertaking the new modular programme, split between the hospital and primary care setting.
Take a look at the mind map [PDF] created by one of our pre-registration pharmacists to help you visualise your pre-registration year in NHS Ayrshire & Arran.
Please also refer to the Training Provider Information Statement for NHS Ayrshire & Arran for further information and to arrange a telephone consultation with a member of our friendly education and training team. This will give you the opportunity to find out more about what we can offer you as a pre-registration pharmacist and give you the ability to ask any questions that you may have. We look forward to hearing from you!