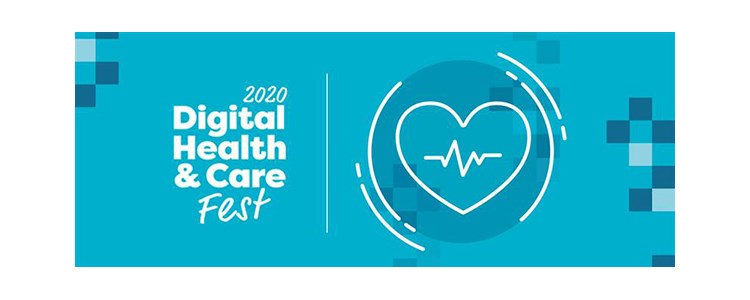 DigiFest 2020 gone virtual
Scotland's largest annual digital health and care event takes place from 1 – 11 December.
COVID has meant that digital health and care solutions have had a year of rapid scale up and development. This year's event will highlight how digital solutions in Scotland and internationally have grown and been adopted. The programme for the event will highlight the range of digitally enabled services in different settings.
Colleagues from our Digital (NDS) and NMAHP directorates will take part in sessions throughout the event.
Members of the NMAHP team will support a panel session on 4 December to share their stories about the learning that has occurred during COVID.
The first panel session includes Peter Glover (NMAHP), Elaine Hunter (Alzheimer Scotland) and Kath Sharp and Ashley Johnstone (NHS Greater Glasgow and Clyde). They will discuss issues related to AHP student practice learning as a result of the pandemic. They will share how digital technology supports practice learning, and graduates joining the workforce. Further information is available on the Knowledge Network website.
Carol Curran, Audrey Taylor, Gail Nash and Marc Beswick talk about how the team used the webinar platform to support the AHP workforce to deliver their services using Near Me. They will discuss how this was then scaled up to respond to the learning needs of the AHP workforce. 35 webinars were delivered, reaching over 14,000 attendees, from April 2020. Recordings of these webinars are available on Turas Learn.
The third presentation looks at the NMAHP Digital Health and Care Leadership Programme. Cohort 14 has moved to virtual delivery using a blended approach. This includes asynchronous, synchronous and social learning. Cohort 15 will be advertised in January 2021 with an April start. Further information is available on the Knowledge Network website.
The National Digital Service (NDS) will present three topics.
Vitamin D SMS Service – Blythe Robertson and Endre Kadas
NDS has provided a COVID-19 SMS shielding service, integrated with local authority support hubs, the main supermarkets and Public Health Scotland (PHS). Since October 2020, this service has provided SMS messaging to people in Scotland in relation to Vitamin D provision.
Essential Anticipatory Care Planning – Jonathan Waldheim
NDS has developed an anticipatory care web form (called an Essential ACP (EACP)) to support care planning conversations. This was done in partnership with Healthcare Improvement Scotland (HIS), the Scottish Government and NHS Lanarkshire.
Emergency Eyecare – Alistair Ewing
NDS has been working on a version of 'OpenEyes' ophthalmology electronic patient record. It has been deployed to support emergency eyecare treatment centres in NHS Forth Valley and NHS Grampian.
---