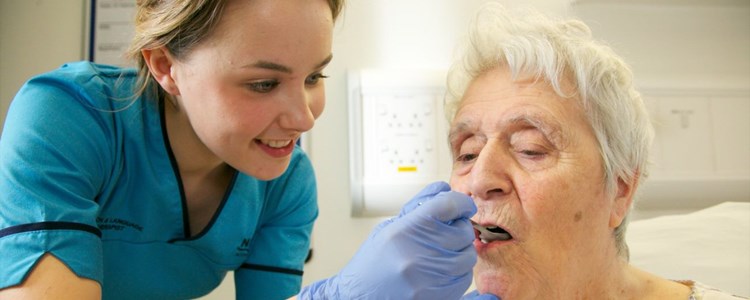 Care homes valuable experience for nursing students
Lessons learned during the pandemic
Between April and September 2020, 300 student nurses undertook paid placements in over 140 Scottish care homes. As well as supporting essential services, this also had positive outcomes for the students. It challenged misconceptions about the breadth of clinical experience, learning and career opportunities on offer within non-NHS environments.
The challenge
Scotland has over 3,300 approved learning environments for student nurses and midwives, with 10% of these in non-NHS settings. Despite student exposure to a variety of non-NHS settings, the NHS remains the primary career destination for newly qualified nurses and midwives.
From spring 2020, the pandemic placed huge demands on the nursing workforce, not only in the NHS but beyond, in care homes as well. On 19 March 2020 the four UK Chief Nursing Officers and the Nursing and Midwifery Council (NMC) took steps to expand the nursing workforce in response to the COVID-19 emergency. The NMC published emergency standards, enabling paid placements for pre-registration nursing and midwifery students to support the workforce. In Scotland, all year two to four nursing and midwifery students were invited to take up the offer.
By the beginning of June there were 4839 pre-registration nurses and midwives in practice. This included 4209 student nurses (from all four fields of practice) and 341 student midwives in NHS placements, with the remainder in non-NHS areas. Between April and September, just over 300 student nurses undertook paid placements in over 140 care homes, with NES assuming employment responsibilities.
Making it happen
All this was achieved at speed through partnership working, both at a strategic and operation level, with NES, universities and practice partners working closely together to ensure students were valued as part of the workforce, whilst being engaged in meaningful learning experiences.
Second year and final year students were employed within specially developed job descriptions. They retained their student status, and while being part of the workforce, they continued learning as student nurses in line with the NMC Standards for student supervision and assessment
The care home education facilitators (CHEFs), who are part of the NES Practice Education Network, acted as the liaison between NES, the student, the care homes and the universities. As care homes restricted non-essential visitors, the CHEFs found alternative ways to support care home staff remotely, using a mix of technology – phone calls, emails and video chats - according to what worked best for staff. CHEF support to nurses and care staff took the form of offering advice on maintaining the NMC regulatory standards for supervision and assessment, keeping them informed of new COVID-19 specific educational resources for their own continuous professional development, as well as providing pastoral care during a period where conserving staff and student wellbeing, to ensure delivery of optimum care, was a priority . Staff very much appreciated the person-centred support the CHEFs provided.
Feedback on the experience
Feedback from student nurses during, and after, their care home experience indicated they welcomed the range of opportunities available for them to develop their learning and they enjoyed working as part of a multi-professional team. A third-year student nurse had this to say:
"My placement has been an extremely rewarding and positive experience. I've enjoyed getting to know the residents and building a rapport with them over time. I really like hearing their stories and learning more about them, and it's a privilege to care for them during this difficult time we are facing.
The staff have been incredibly supportive during my time here as a student nurse, and they have really welcomed me as a valued team member. I appreciate being given the opportunity to engage in the care, nursing, and management side of the care home. This continues to be a great experience and I am thoroughly enjoying my time here."
Students reported having the opportunity to develop specific clinical skills such wound care, medication management, and wider proficiencies of infection prevention and control precautions, palliative and end-of-life care and participating in multi-disciplinary resident care reviews. Other rewards included:
a sense of fulfilment due to feelings of belonging, acceptance and being valued as a member of the care home team
increased confidence from the experience of providing good care in difficult circumstances including developing leadership, decision-making and problem-solving skills
the support and guidance from the registered nurse, CHEF and care home manager
the appreciation of the residents
Some of the challenges they faced included:
establishing good communication and rapport with residents when wearing face masks
explaining to residents why relatives and friends could not visit
managing their own anxieties while delivering person centred care to vulnerable adults
While students reported the value of their experience and their contribution to the workforce. this was reciprocated by care home managers:
"We loved having students here for the first time. The nursing team found this a very valuable experience to further their own skills and gain confidence in their own skills that comes with teaching, coaching and guiding student nurses.
The residents also hugely benefit from having student nurses placed within the home as they enjoy the additional 1-1 time that this can allow them. We have so much to offer student nurses and it has been great to have the opportunity to do so."
Scottish Care, which represents over 400 organisations who deliver residential care, nursing care, day care, care at home and housing support services also reported on the value of the student contribution to the workforce. A spokesperson commented:
"We welcomed a number of 2nd year students who would not have previously had a care home placement, as well as final year students. I would especially like to thank those students who then decided to take up posts within social care nursing on qualifying.
It is key that we continue to welcome new staff to ensure the sector grows and there is transformation of our nursing roles. As a sector we are invested in ensuring equity for all our nursing staff and hope that student placements will continue to grow, with care homes continuing to be recognised for the valuable practice learning environments they are and will continue to be."
Conclusion
The universities, CHEFS, NES and care homes and their staff all contributed to make the placements worthwhile and rewarding for the students. Care home staff felt supported by nursing students and encouragingly some students are now keen to choose this as their career path based on their COVID-19 placement experience.
Care home settings offer a valuable opportunity to gain and practice a wide range of clinical and professional skills while delivering person centred care. Evidence from the care home sector during COVID highlights the benefits of these placements to all parties.
---